Tech
For Android, Here's How To Become A WhatsApp Beta Tester
WhatsApp offers a beta programme, just like other Android applications. After receiving feedback from developers and beta testers, WhatsApp publishes stable upgrades. As a result, you get the latest features before the rest of the world, which comes with bugs. WhatsApp just announced multi-device compatibility for a restricted group of beta users. This occurs every time a stable update is released. So, if you want to be the first to know about new information and brag about it to your friends, the following article is for you.
How Do I Join Up To Be A WhatsApp Beta Tester?
Because the number of beta testers is restricted, not everyone is eligible to participate. After a while, the places become available again, so if you're lucky, you might be able to join the WhatsApp beta programme. Let's talk about how to use this service and become a WhatsApp beta tester. Although WhatsApp is not a standalone app, it does receive an early update.
Step 1: Open any browser and type https://play.google.com/apps/testing/com.whatsapp into the address bar. You'll see a page similar to this; if you're on a mobile device, scroll down until you see the "Become a Tester" button.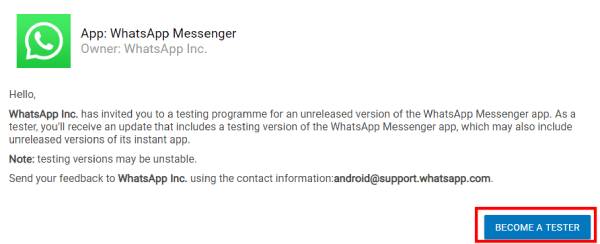 Step 2: Verify that you're logged in with the same email address that you use for Playstore.
Step 3: Select "Become a Tester" from the drop-down menu. You will be enrolled in the beta testing programme when some time has passed. Being a beta tester may take up to 24 hours, so be patient.
Step 4: Return to the above link to see if your application has been accepted. And if you see "Welcome to the testing programme," it indicates you've already signed up.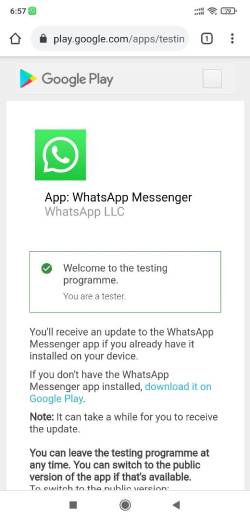 Step 5: Now search for WhatsApp in the Play Store. Most likely, you will receive an update, and the app's name will change to Whatsapp Messenger (Beta). You will also be identified as a beta tester in the description.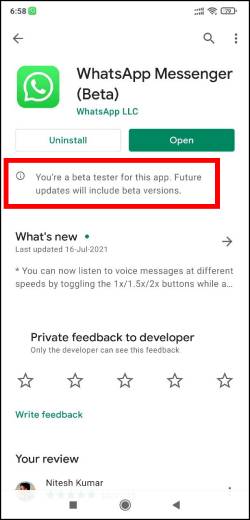 As I previously stated, there is a potential that you will not be selected as a beta tester due to the restricted number of spots available. As a result, you may receive the notice depicted in the figure below. However, if you are serious about being a part of the WhatsApp beta programme, keep trying and you will eventually receive the beta tester link.
How To Opt-out From Beta Program?
You can exit the programme at any moment. Simply open the Google Play store and select WhatsApp from the list of apps. Under the section Leave, you'll notice a box. To return to the public version of WhatsApp Messenger, you will need to uninstall and reinstall the software.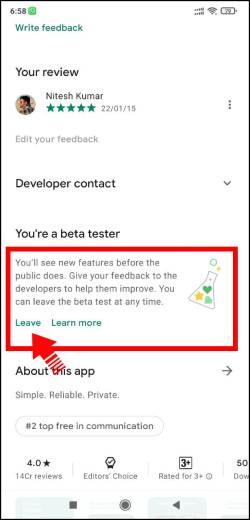 Final Words
You now know how to apply to be a beta tester and how to withdraw from the program.
Humbly Request To All Visitors!
If you found above both downloading link expired or broken then please must inform admin by fill this Contact Us! Form