News
Schedule For The T20 World Cup 2022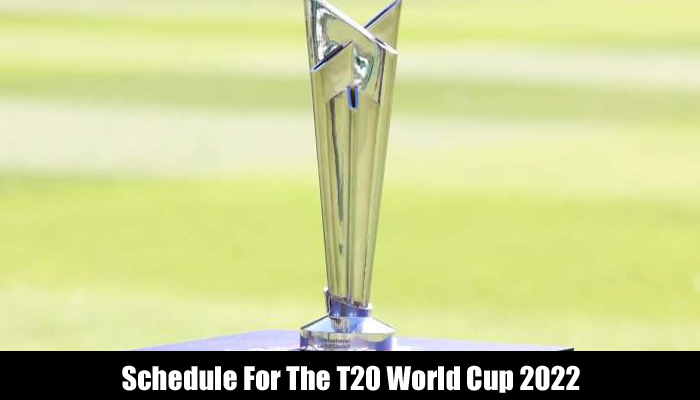 The T20 World Cup 2022, which will begin in Australia in a few weeks, will pit the top cricketing nations of the world against one another for the title of T20I world champions. Hosts After defeating New Zealand in the championship game in Dubai, Australia will defend the title that they won for the first time that year.
On October 23, the team led by Rohit Sharma will face off against Pakistan at the Melbourne Cricket Ground (MCG) in a highly anticipated match. On October 16, Sri Lanka plays Namibia to start the tournament. The final performance is slated for November 13 during its almost month-long run.
The Schedule For The T20 World Cup 2022 Is Provided Below.
October 16
Sri Lanka vs Namibia — 3:00 PM at Kardinia Park Stadium, Geelong
Qualifier 2 vs Qualifier 3 — 7:00 PM at Kardinia Park Stadium, Geelong
October 17
West Indies vs Scotland — 3:00 PM at Bellerive Oval, Hobart
Qualifier 1 vs Qualifier 4 — 7:00 PM at Bellerive Oval, Hobart
October 18
Namibia vs Qualifier 3 — 3:00 PM at Kardinia Park Stadium, Geelong
Sri Lanka vs Qualifier 2 — 7:00 PM at Kardinia Park Stadium, Geelong
October 19
Scotland vs Qualifier 4 — 3:00 PM at Bellerive Oval, Hobart
West Indies vs Qualifier 1 — 7:00 PM at Bellerive Oval, Hobart
October 20
Sri Lanka vs Qualifier 3 — 3:00 PM at Kardinia Park Stadium, Geelong
Namibia vs Qualifier 2 — 7:00 PM at Kardinia Park Stadium, Geelong
October 21
West Indies vs Qualifier 4 — 3:00 PM at Bellerive Oval, Hobart
Scotland vs Qualifier 1 — 7:00 PM at Bellerive Oval, Hobart
October 22
New Zealand vs Australia — 6:00 PM at Sydney Cricket Ground, Sydney
England vs Afghanistan — 7:00 PM at Perth Stadium, Perth
October 23
Group A Winner vs Group B Runner-up — 3:00 PM at Bellerive Oval, Hobart
India vs Pakistan — 7:00 PM at Melbourne Cricket Ground, Melbourne
October 24
Bangladesh vs Group A Runner-up — 3:00 PM at Bellerive Oval, Hobart
South Africa vs Group B Winner — 7:00 PM at Bellerive Oval, Hobart
October 25
Australia vs Group A Winner — 7:00 PM at Perth Stadium, Perth
October 26
England vs Group B Runner-up — 3:00 PM at Melbourne Cricket Ground, Melbourne
New Zealand vs Afghanistan — 7:00 PM at Melbourne Cricket Ground, Melbourne
October 27
South Africa vs Bangladesh — 2:00 PM at Sydney Cricket Ground, Sydney
India vs Group A Runner-up — 6:00 PM at Sydney Cricket Ground, Sydney
Pakistan vs Group B Winner — 7:00 PM at Perth Stadium, Perth
October 28
Afghanistan vs Group B Runner-up — 3:00 PM at Melbourne Cricket Ground, Melbourne
England vs Australia — 7:00 PM at Melbourne Cricket Ground, Melbourne
October 29
New Zealand vs Group A Winner — 7:00 PM at Sydney Cricket Ground, Sydney
October 30
Bangladesh vs Group B Winner — 1:00 PM at The Gabba, Brisbane
Pakistan vs Group A Runner-up — 3:00 PM at Perth Stadium, Perth
India vs South Africa — 7:00 PM at Perth Stadium, Perth
October 31
Australia vs Group B Runner-up — 6:00 PM at The Gabba, Brisbane
November 1
Afghanistan vs Group A Winner — 2:00 PM at The Gabba, Brisbane
England vs New Zealand — 6:00 PM at The Gabba, Brisbane
November 2
Group B Winner vs Group A Runner-up — 2:30 PM at Adelaide Oval, Adelaide
India vs Bangladesh — 6:30 PM at Adelaide Oval, Adelaide
November 3
Pakistan vs South Africa — 7:00 PM at Sydney Cricket Ground, Sydney
November 4
New Zealand vs Group B Runner-up — 2:30 PM at Adelaide Oval, Adelaide
Australia vs Afghanistan — 6:30 PM at Adelaide Oval, Adelaide
November 5
England vs Group A Winner — 7:00 PM at Sydney Cricket Ground, Sydney
November 6
South Africa vs Group A Runner-up — 10:30 AM at Adelaide Oval, Adelaide
Pakistan vs Bangladesh — 2:30 PM at Adelaide Oval, Adelaide
India vs Group B Winner — 7:00 PM at Melbourne Cricket Ground, Melbourne
Semi-Finals
November 9
ICC T20 World Cup 2022 Semi-final 1: TBA VS TBA — 7:00 PM at Sydney Cricket Ground, Sydney
November 10
ICC T20 World Cup 2022 Semi-final 2: TBA VS TBA — 1:30 PM at Adelaide Oval, Adelaide
Final
TBA VS TBA — 1:30 PM at Melbourne Cricket Ground, Melbourne
Humbly Request To All Visitors!
If you found above both downloading link expired or broken then please must inform admin by fill this Contact Us! Form