News
Registration 2021, E Shram Card Eligibility, Advantages, Register.eshram.gov.in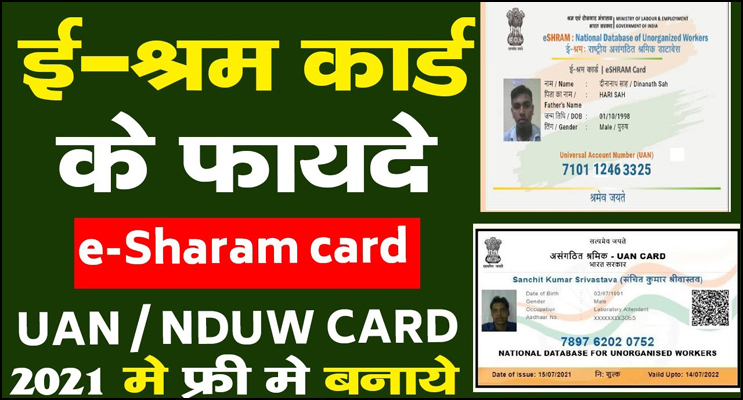 Laborers are given an eShram card by the government. The e Shram portal (eshram.gov.in,register.eshram.gov.in) was created specifically for workers in unorganised sectors. The Central Government will use this platform to collect data from all labourers. According to the data supplied by the government, around 38 crore workers in the unorganised sector will be eligible for an e-shram card. The labourers will be given a 12 digital Universal account number after successfully registering for the e Shram Yojana. Beneficiaries will not be required to register again once they have completed the initial registration.
You must apply for an e shram card online at eshram.gov.in register.eshram.gov.in. If you wish to learn more about the shram card, such as the scheme's benefits, significant points, the step-by-step method for registering for an e-Shram card, and other relevant information, click here.
E Shram Card Or Labour Card – Details
| | |
| --- | --- |
| Scheme | e shram card yojana |
| Accidental Death Insurance | 2 Lakh Rupees |
| Partial Handicap Help | 1 Lakh Rupees |
| Purpose | Helping the workers |
| Total Budget | Rupees 404 Crore |
| Age Limit | 16 Years to 59 Years |
| e-Shram Registration Charges at CSC | Rs.20 per registration |
| official website | eshram.gov.in register.eshram.gov.in |
Apply For An Eshram Card Online In 2022.
The launch of the e-shram card in the country is one of the most significant government efforts aimed at providing social and financial security to the country's labourers. Construction labourers, street vendors, migratory workers, and low-income labourers will benefit from the e Shram Card Yojana. You must first apply for the social security plan in order to benefit from the e shramik card. The nicest thing about the Shram card is that you may easily register for this scheme on your own.
You do not need to go outside to register for the e Shramika Yojana. People who are illiterate and unable to operate a computer or a mobile phone, on the other hand, can go to the local common service centre.
Benefits Of The Eshram Card And Important Points
As we all know, the central government launched the e-shram card yojana on August 26, 2021.
Beneficiaries will receive a 2 lakh rupee Accidental Death Insurance policy, while partially handicapped people will receive 1 lakh rupees after the occurrence.
The government has set aside Rs 404 crore for the e Shram Yojana 2022.
The e shram yojana is open to all types of workers in the unorganised sector.
Anyone who pays income tax will be ineligible to apply for an e-shram card.
Employees Provident Fund Organisation (EPFO) and Employees State Insurance Corporation (ESIC) members are also excluded from the government's e shram card plan.
If you are a citizen of Uttar Pradesh and have registered for the government's unorganised Eshram Yojana, you would be eligible to earn Rs 500 before March 2022.
Persons Who Are Covered By The E-shram Scheme
Marginal Farmers
Small Farmers
Agricultural Labourers
Construction Workers
Leather Labourers
Fishermen
Animal Husbandry Workers
Croppers
Beedi Rollers
Workers in Unorganized Sectors (Other Workers)
Eligibility Conditions For The Eshram Card
To receive the benefits of the e shram card yojana, you must meet certain requirements.
You must be an Indian permanent resident.
You must have a Unique Identification Authority of India (UIDAI)-issued Aadhaar Card (UIDAI).
You must not be a taxpaying individual.
The beneficiary must be between the ages of 16 and 60.
In the E Shram portal, the registration charge for the e Shram card yojana will be Rs 20 per registration in CSC, while the application fee would be free.
You must apply for the Eshram plan through the government's official website, eshram.gov.in.
You must have a mobile number linked to your Aadhar card, as well as a nationalised bank account.
At eshram.gov.in, you can self-register for an eshram card.
The government makes it possible for you to apply for an e Shram card online. You don't have to leave your house to participate in this scheme; you can simply open the bottle and fill out the application form for the government's Shramik Yojana. The following procedures would be quite helpful for you if you want to know the step-by-step approach for applying for this shramik scheme 2022.
To begin, go to the e Shram's official website, eshram.gov.in, by clicking on the provided link.
After completing this step, you will be directed to the main page of the Labour & Employment official portal's e shram portal.
You must now click on the 'e shram registration' link.
You will now be led to a new page where you must enter information such as your Aadhaar number and the Captcha Code displayed on your device.
Select 'Send OTP' from the drop-down menu.
You will now get an SMS containing the One-Time Password on your mobile phone.
You must first provide your OTP before proceeding to apply for the government's e-shram yojana.
You must now input information such as your bank account number, full name, father's name, mother's name, spouse's name, occupation, organisation name, monthly income, income certificate number, domicile certificate number, and so on.
After you've entered all of these facts, double-check them before submitting them.
Details will be reviewed by the appropriate authorities when the application form is submitted.
Following the successful acceptance of the information provided on the application form, you will be given a 12-digit number and an eShram card.
State E Shram Card Registration 2021 Online Application
Helpline Number For E-shram Cards
The government has also provided a toll-free number for the benefit recipients' convenience. With the use of this toll-free number, all sorts of beneficiary workers can get detailed information about the scheme, such as the amount of benefits supplied to E-Shram cards, the types of workers covered by the scheme, the date of benefit receipt, and so on. However, if you are not receiving benefits under a specific plan, you can call the Ministry of Labour & Employment's national toll-free number, which is 14434.
Humbly Request To All Visitors!
If you found above both downloading link expired or broken then please must inform admin by fill this Contact Us! Form