News
Date And Time Of The Solar Eclipse In 2021: Prepare To See 'Ring Of Fire'.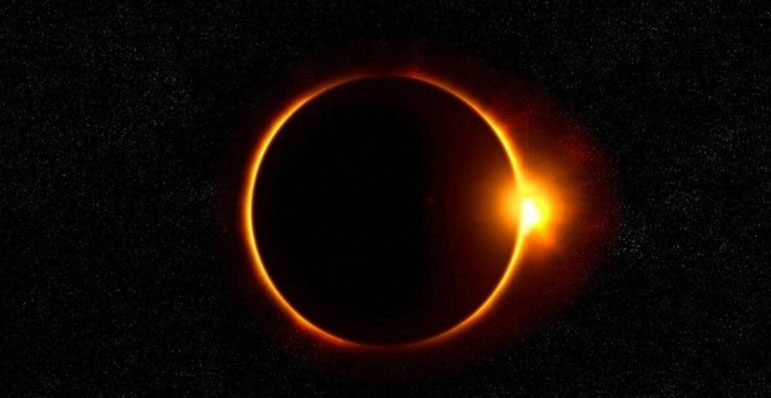 Surya Grahan 2021 Date, Timings:-
On June 10, 2021, the first solar eclipse of the year will occur. This celestial event occurs just a few days after the lunar eclipse of 2021. In the next days, expect to see the stunning 'Ring of Fire.' When the moon blocks the sun and casts a shadow over Earth, it is called an annular solar eclipse.
According to NASA, Indians will not be able to see this unusual cosmic phenomena because it will only be seen from regions of Canada, Greenland, and Russia. The solar eclipse will be visible first in Canada, northern Ontario, and on the north side of Lake Superior. For around three minutes, it will be visible to Canadians.
People residing in Greenland will be able to see the ring of fire as the solar eclipse reaches its apex. It will then occur in Siberia, as well as the North Pole. The United States and India will be unable to witness the unusual celestial phenomenon, but residents of the East Coast and Upper Midwest will be able to see it after sunrise.
According to Timeanddate.com, the annular solar eclipse in 2021 will start at 01:42 PM (IST) and last until 06:41 PM (IST) (IST). Solar eclipses can be total, partial, or annular, but only two of them will be seen this year.
On December 4, 2021, the second solar eclipse of the year will occur. Similar to the annular solar eclipse, this celestial event will not be visible in India. The fourth eclipse of 2021 will be visible from South America, the Pacific, the Atlantic, sections of the Indian Ocean, and Antarctica.
This will be a total solar eclipse, meaning the moon will fully block the sun and cast a shadow over the Earth.
Humbly Request To All Visitors!
If you found above both downloading link expired or broken then please must inform admin by fill this Contact Us! Form