News
After The Death Of The Holder, What Happens To Aadhaar, Pan, Voter Id, And Other Legal Documents?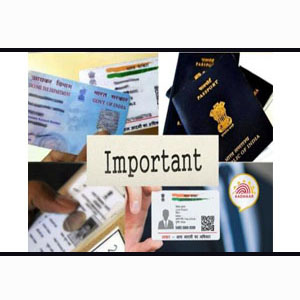 Legal heirs of a deceased person are frequently unaware of what to do with the dead's many official documents and government IDs, such as PAN cards, Aadhaar cards, Voter ID cards, passports, and so on. Is there a time limit on how long they may retain these? Can they also hand over these documents to the entities that govern and issue them? Here's how to handle various government official documents such as a deceased person's PAN, Aadhaar, passport, and so on.
Aadhaar
The Aadhaar number is used to prove both identity and address. It is required to quote or submit a copy of the Aadhaar number in different places, such as when applying for LPG subsidies, government scholarship benefits, and EPF accounts. "Aadhaar is designed to be a unique identifying number by its very nature," Shaikh argues. As a result, the number continues to exist even after death. The authority that governs Aadhaar, the Unique Identification Authority of India (UIDAI), has not yet linked death registers across states, therefore Aadhaar is not automatically updated to reflect death.
Aadhaar is currently not required for death registration or obtaining a death certificate." It is, of course, crucial for legal heirs or family members to ensure that this is not abused. "The UIDAI has no method for deactivating or cancelling a deceased person's Aadhaar card, and there is no provision to even update information on a holder's death in the Aadhaar database," says the report. Legal heirs might have the bio-metrics of the deceased individual locked as a security measure to prevent misuse of bio-metric authentication," explains Amit Jajoo, Partner, IndusLaw. The UIDAI website can be used to lock the bio-metric credentials of a deceased person.
PAN
PAN cards are required for a variety of purposes, including bank accounts, demat accounts, and the filing of a deceased person's income tax return (ITR). As a result, the PAN must be kept on file until all accounts requiring the PAN are closed. When submitting ITRs, the PAN must be kept on file until the tax return has been filed and processed by the Internal Revenue Service. Keep in mind that the IT department has the authority to reopen assessments for up to four years, including the present assessment year. Also, double-check that any income tax refunds owing to the dead have been credited to his or her bank account.
"Once problems connected to shutting of accounts, income tax returns, and so on have been satisfactorily taken care of," says Shabnam Shaikh, B. Com and LL.B., Partner, Khaitan & Co, "then the representative or legal heir can submit the deceased person's PAN to the income tax department." How can you give up your PAN card for good? To do so, the representative or legal successor must submit a written application to the assessing officer (AO) in the jurisdiction where the PAN is registered. The letter should include the cause for surrender (i.e., the holder's death), the deceased's name, PAN, and date of birth, as well as a copy of the deceased's death certificate. Visit the income tax department's e-filing website to learn more about the appropriate AO information. It is important to note, however, that relinquishing the deceased's PAN is not necessary; you may keep it if you believe it may be needed as proof for any reason in the future.
Voter ID card
The Registration of Electors Rules, 1960, include a provision for voter ID revocation in the event of death. According to Jajoo, "A deceased person's legal heir would be needed to go to the local electoral office. For the cancellation of a person's name from the voters list due to death, a specific form, Form No. 7 under the Electoral Rules, must be filled out and submitted along with a death certificate."
Passport
According to Shaikh, "There is no provision for surrender or cancellation of a passport in the event of death. In addition, there is no method for notifying the appropriate authorities." However, once a passport has expired, it becomes invalid by default. However, you should keep this paper since you may need it as proof in the future if something unexpected happens.
Driving License
"In general, there is no provision for the surrender or cancellation of a deceased person's driver's licence. However, because each state regulates the issuance, suspension, and revocation of driver's licences differently, it's best to double-check the state-specific legislation. The cancellation of a licence can be done by going to the appropriate RTO office. In addition, according to Shaikh, heirs may confirm the state-specific process of changing a car registered in the deceased's name to his or her name.
Humbly Request To All Visitors!
If you found above both downloading link expired or broken then please must inform admin by fill this Contact Us! Form