APPS
Top 5 Offline Player Apps For Android | Play Your Video & Music Collection |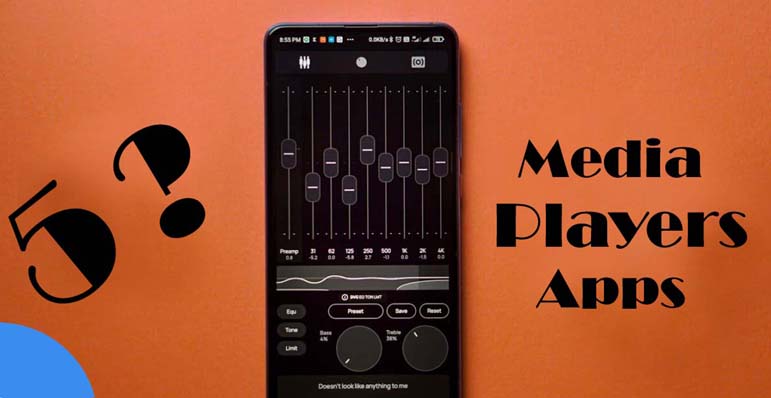 Smartphones have now become an indispensable source of entertainment, allowing people to entertain themselves while still being virtually connected to the rest of the world. But the main point is that there are a number of applications that we can download to our smartphones that can help us overcome boredom without relying on any external apps. Offline media, such as movies and music, was the only source of entertainment a few years ago, and even in this age of OTT platforms, some people still choose to play media downloaded from torrent or any other platform on their smartphones, which necessitates the use of special applications that can run all file types. To make it easier, we've compiled a list of the top 5 offline media player applications that can help you get the most out of your video and music files.
1. VLC Player
[appbox googleplay appid org.videolan.vlc&hl=en]
VLC for Android is a video player that you can use on your Android device. But it also accomplishes a great deal more. This multifunctional app will play a wide range of video and audio file formats. To take advantage of all this app has to offer, you'll need an Android with at least an ARMv7 CPU. This app is really similar to the original VLC. It also lets you play videos and audio files in a variety of formats. It also makes browsing your media library a pleasant experience. Take inventory of all the files on your smartphone and play them with a single fingertip tap. Similarly, the app includes a plethora of tracks for a single video, as well as subtitles, screen auto-rotation, screen changes, and much more, all of which you can change with only three clicks! VLC for Android is a fantastic application for playing audio and video files, watching videos, and much more. VLC is a dependable audio-visual player for Android. You can now watch movies from your Android in almost any format.
2. MX Player
[appbox googleplay appid com.mxtech.videoplayer.ad&hl=en]
MX Player is a video player app that allows you to watch virtually any film or clip on your Android device, regardless of format. In principle, this Android video player performs multinuclear decoding, which means it outperforms most Google Play-style apps that only use one nucleus of the Android computer. However, one of the most intriguing aspects of MX Player is its extensive set of gesture controls, which enable you to do almost anything with manual shortcuts. To increase or lower the brightness, for example, simply swipe downward on the left side of the panel.
3. AllCast
[appbox googleplay appid com.koushikdutta.cast&hl=en]
AllCast is a free app that lets you stream images and videos to Chromecast, Amazon Fire TV, Apple TV, Xbox 360, Xbox One, Roku, WDTV, or a Samsung, Sony, or Panasonic Smart TV. The AllCast gui is quick and straightforward: the left-hand drop-down menu gives you easy access to your picture and video galleries, tracks, and even your Dropbox or Google Drive galleries (your accounts need to be synced). It's as simple as selecting it on your Android's computer to send pictures, videos, or sound to the screen. Furthermore, the display quality is excellent. Only bear in mind that the videos have a watermark in the lower right corner of the screen. AllCast is a decent cast app for watching any multimedia material on your television.
4. BSPlayer
[appbox googleplay appid com.bsplayer.bspandroid.free&hl=en]
BSPlayer, a video player, allows you to watch a variety of movies in a variety of formats right on your Android device's device. AVI, DivX, FLV, MKV, MOV, MPG, MTS, mp4, m4v, avi, wmv, 3gp, and MP3 are only a few of the file formats supported by the app. It also supports RTMP, RTSP, MMS (TCP, HTTP), and HTTP for video streaming. You can change the audio chain of a video or add subtitles (as long as it's in a format supported by the app), as you would expect for this type of app. You can also use the app to watch videos saved on your computer as long as they've been synced to the system and you have a decent WiFi link. If you have it, all you have to do now is pick a video, relax, and enjoy. BSPlayer is a feature-rich video player with a straightforward, user-friendly interface that allows anyone to watch movies on their Android device.
5. Music Player
[appbox googleplay appid com.rocks.music&hl=en]
Music Player Apk is a valuable app for organizing your music and video libraries. You can also play your files without caring about the format they're in, and organised your music collection from your smartphone whenever and wherever you want. You can transform your smartphone into a true library for all of your audiovisual material thanks to v. With this robust multimedia player, you can keep all of your movies and home videos on hand at all times, arrange them by category, and play them in any quality. This app also adapts to your smartphone to provide you with the most seamless and enjoyable experience possible. Music Player Apk is not only one of the best video players available, but it also allows you to arrange your music in the same way as iTunes or other similar apps do. This is particularly useful if your smartphone contains a large number of songs. Thanks to Music Player Apk , you can listen to your favorite music in MP3 or FLAC format and watch high-quality video in any format.
Humbly Request To All Visitors!
If you found above both downloading link expired or broken then please must inform admin by fill this Contact Us! Form