APPS
Top 11 Free Video Editor Applications For 2021 | Available On PlayStore |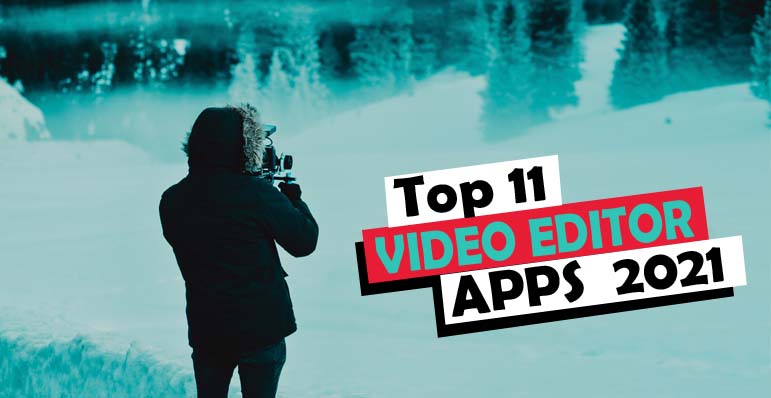 Smartphones now have the capacity to capture video at the speed of a DSLR. As a result, it's no surprise that users are searching for the best free video editing apps to improve their videos. Though there is a plethora of video editing applications available for PC, the Google Play Store also has a plethora of free video editor apps for Android smartphones. They're easy to work with and come with a slew of cool features. We've assembled a list of the best Android video editing applications for 2021, all of which are available for free on Google Play. You can edit videos to perfection and share them on Facebook, Instagram, Twitter, and YouTube using these apps.
[appbox googleplay appid com.wondershare.filmorago]
FilmoraGo Apk enables users to put their creative ideas into action in order to make captivating videos with a variety of effects. For the quick development of photo and video collages, this project is convenient, interesting in its capabilities, and very stylish. Users can import from social networks and use a large variety of effects, filters, different frames, decorative elements, transitions, and everything else that can help them create an original and impressive result. With a little practice, you'll be able to create a full-fledged masterpiece. Intuitive controls, on the other hand, enable you to quickly move between tabs, add required qualities, and so on.
[appbox googleplay appid com.adobe.premiererush.videoeditor]
Adobe Premiere Rush Apk is a video editor from a reputable developer that is not only tailored to the capabilities and limitations of mobile devices, but was designed specifically for users to make fantastic videos and movies quickly and easily without the use of other apps. In general, the project is intended to deliver results at the level of social networks and video hosting, but it possesses the qualities that make the source material into a truly outstanding product. Anyone who was looking for something similar would be pleased with the work and the performance.
[appbox googleplay appid com.xvideostudio.videoeditor]
VideoShow is a video editing app that lets you make fun movies out of the videos you take with your Android device and store on it. You can use the app to take any video on your smartphone and add various filters to it, such as Instagram-style color profiles. As a result, the images may be rendered warmer or colder, or converted to black and white or sepia tones. You can also use VideoShow to modify the audio or add subtitles to any video. Simply choose the necessary options when playing the video in the editor, and you can make any adjustment you want. You can export your video in the same quality as the original or compress it to save space once you've done editing it. Of course, compressing it will reduce the consistency, but it will also make it easier to share with others. VideoShow is a straightforward video editing application with excellent performance. It's perfect for making minor adjustments to your favorite videos.
[appbox googleplay appid com.cyberlink.powerdirector.DRA140225_01]
PowerDirector is the ideal smartphone editing app for making cinema-style movies, videos of your latest adventure, or merging clips to share thrilling and memorable moments. With a wide range of powerful editing tools that are updated on a monthly basis and are easy to use. With the application's user interface, you'll be able to create flawless videos that will astound you. To become the next vlog star, use the built-in stock library to add images, music, and sound effects, then post to YouTube, Instagram, Tik Tok, Facebook, and Snapchat.
[appbox googleplay appid com.nexstreaming.app.kinemasterfree]
KineMaster is a video-editing app that combines a well-designed interface, a fantastic user experience, and a wide range of powerful features to let you make the videos you want, exactly how you want them. It's easy to use KineMaster: just select the content you want to use in your video, arrange it in the order you want it, and give it a title. Following that, you can choose an overall theme for your video, as well as an introduction. That's all there is to it… but you can always go back and edit more thoroughly if you want. KineMaster allows you to edit video directly from the timeline, which is slightly more difficult. This allows you to add various types of transitions between video fragments (photos or videos) as well as text or subtitle blocks. When you're done editing, KineMaster lets you save your project in various quality levels directly to your phone. You can, of course, post the video to your Facebook or YouTube accounts directly.
KineMaster is a straightforward but capable video editor. Though you can use it to make a video in a matter of seconds, it can also be used to make far more elaborate projects if you spend a little more time with it.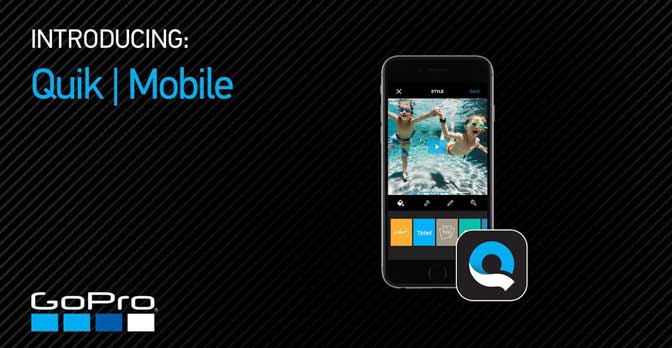 Quik is a smartphone app that allows you to make cool videos out of images or other video clips. This app analyses all of the material you picked in a matter of seconds and automatically creates a nice-looking video with transitions and a soundtrack. Quik users can choose from up to 20 different types for their videos, which will dramatically improve the quality of the final product. You'll also be able to add text, filters, music, and other effects to your video. Quik's powerful and elegant gui makes it simple to do all of this. Quik will let you get active by allowing you to customize many of the fine details, even though it will handle much of the video processing automatically. You'll be able to crop videos you add, adjust the focal point in images, and reorganise elements in your video, for example. You'll also be able to alter video formats in this situation. All you have to do now is save your development to your phone once you've done it. You'll be able to choose if your video should be saved in 720p or 1080p. Quik is a fantastic video-making software that allows you to quickly create video compositions in a short amount of time. Choose your images and videos, choose a theme, and watch as your video transforms into a high-quality video in less than a minute.
[appbox googleplay appid com.vivaindia.videoeditor]
VivaVideo is a free video editor and maker that includes all video editing features such as cutting, trimming, merging, editing with audio, editing for YouTube, adding stickers to videos, adding text to videos, and so on. Download VivaVideo to add music and effects to your videos! The best Android bloggers have called VivaVideo the "Strong Video Editing App" for Android. "VivaVideo is the versatile video editing and production app with all the trendy editing features," the Android authority said. He said, " "VivaVideo is a fun video editor with a lot of options. With Viva Video Maker with Music, you can quickly become a professional video editor!"
[appbox googleplay appid com.avcrbt.funimate]
Funimate Apk is a fun video editing app that will delight users with its extensive functionality and features. Download the recently shot video and begin editing it, adding different effects, music, and making fun videos that will become very famous if you wish to show them to the public or just keep them for yourself and enjoy the fruits of their labors and the process of creating another vidosika. Despite its extensive features, the app has a relatively simple and intuitive interface, which is great because it eliminates the need for extensive preparation and allows you to get right to work and start creating almost immediately.
[appbox googleplay appid com.magisto]
Magisto Apk is a fantastic video editor that has gained a lot of traction among fans of using mobile devices to achieve their goals. When working on projects that include photo material or video files, the app feels fantastic. A useful collection of tools, easy management, fast selection of elements appropriate for the context and content, the availability of ready-made models, and much more will satisfy anyone who wants to mount something vibrant and appealing to viewers and visitors to social media networks.
[appbox googleplay appid com.alivestory.android.alive]
ALIVE Movie Maker is a video editing app that allows you to make and post amazing 30-second videos. Before uploading your videos via the app, you can use a wide variety of special effects and filters. Inside the app, you can also watch videos created by other users. ALIVE Movie Maker's editing app is simple and easy to use. You can quickly apply all of the effects and filters available from the timeline. Similarly, you can cut the video manually or add an extra audio track with music. After you've finished editing your video, all you have to do now is add a brief summary, and it'll be uploaded to your user account (a lot like Instagram, for example). ALIVE Movie Maker allows you to follow other users, as is typical of this form of social network. You can then watch the videos that other users have posted, leave comments on them, 'like' them, and so on. ALIVE Movie Maker is an excellent video editor for Android that not only allows you to make exclusive videos, but also allows you to share them easily.
[appbox googleplay appid com.funcamerastudio.videomaker]
You can make amazing movies right from your Android device with the video editing app Filmigo Video Maker! To make an amazing movie, simply use video clips and photos already on your device. From the app's main menu, you can access all of Filmigo Video Maker's features. To add effects to your clips or merge them into a movie, tap on 'Editor' or 'Estudio,' or use the 'Trim' tool to shorten a video. You can use all of Filmingo Video Maker's other features until you've selected all of the photos and video clips for your movie. Add music, rotate or flip the picture, and add spectacular effects to turn any video into an action movie in no time! After you've completed your film, share it with your friends and family or save it to your Android device. Overall, Filmigo Video Maker is a powerful Android video editor that produces excellent results.
Humbly Request To All Visitors!
If you found above both downloading link expired or broken then please must inform admin by fill this Contact Us! Form