News
Plans, SIMs, Cities, Launch Dates, And Speed Tests For Jio 5G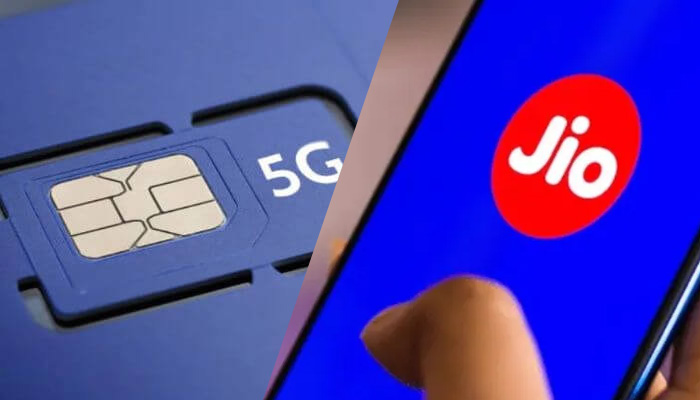 The 5G spectrum auctions in India have already concluded. The record bid of 1.5 lakh crores brought the auction to a close. Major Indian telecom carriers Jio, Airtel, Vi (Vodafone-Idea), and a newcomer, Adani Data Network, were the main contestants in the auction. Jio is in first place with an offer of 88,000 crores. With 43,000 crores, Airtel is second, followed by Vi (18,899 crores), and Adani Data Network is last. Can we anticipate better 5G from Jio given that it spent the most during the bidding process, nearly twice as much as Airtel 5G? And when will Jio introduce 5G in India? In this essay, let's address each of these queries.
What date will Jio introduce 5G in India?
On August 29, 2022, Reliance Jio made a 5G service announcement.
The 45th Annual General Meeting (AGM) of Reliance Industries (RIL) was held on August 29, 2022. Reliance Jio unveiled its Jio True 5G 5G services at the Annual General Meeting.
On October 1st, Prime Minister Narendra Modi introduced 5G services in India at the India Mobile Congress (IMC) 2022. Mukesh Ambani, the chairman and managing director of Reliance Industries Ltd., attended the occasion as well. By December 2023, Jio, according to him, will offer 5G services at reasonable prices across the nation. By Diwali 2022, 5G services would be available in 4 cities (Delhi, Kolkata, Chennai, and Mumbai).
In a number of cities, Jio will roll out 5G services built on a standalone (SA) architecture. The implementation will start on October 24, 2022, which is Diwali. The telecom operator added that by December 2023, 5G will be available in every Indian municipality.
The initial rollout will only be available in urban areas where Jio will conduct 5G pilot testing. Jio will roll out 5G to other Indian cities over the course of two to three months. By the end of this year, Jio 5G should be available in India's tier-2 and tier-3 cities.
My Jio app might include a checkbox to see the 5G network coverage once Jio 5G launches. Users will be able to use this to check whether the 5G network is accessible in their location.
What 5G bands did Jio purchase?
Of all the participating telecom companies, Jio placed the highest bid at India's 5G spectrum auctions. Jio spent 88,078 crores in total on the bid. The most extensive spectrum is available in India through Jio. Regarding the 5G airwaves, Jio has acquired 5G bands across all well-known frequencies. Jio will support mmWave frequencies at 26 GHz as well as low-band frequencies like 700 MHz (n28), 800 MHz (n5), medium-band frequencies like 1800 MHz (n3), and 3300 MHz (n78) (n258).
Jio has made it clear that it would provide 5G connectivity across the nation. Jio will carry out this using the reasonably priced 700 MHz sub-GHz frequency spectrum. In addition, Jio intends to roll out the premium mmWave 26 GHz spectrum to all 22 Indian circles. Visit Ways to Check 5G Bands of a Phone to learn how to determine the 5G bands on your new 5G phone.
What cities will Jio 5G be introduced in first?
Jio intends to introduce 5G by Diwali 2022 in India. Metropolitan cities will be the first to receive this deployment. Later, Jio will extend it to several tier-2 and tier-3 cities. The most recent news states that Jio would initially launch its 5G services in 4 cities. Delhi, Mumbai, Kolkata, and Chennai are among them. In the second phase, the 5G network may also be available in other major cities including Hyderabad, Jamnagar, Chandigarh, Gandhinagar, Ahmedabad, Bengaluru, Gurugram, Lucknow, and Pune. It should be mentioned that Jio might launch a 5G network in a few locations throughout these cities. Therefore, not every resident of these cities may use 5G services.
To utilise Jio 5G, do you need a new SIM card?
To access the 5G network, you most likely require a fresh Jio 5G SIM card. Jio has created a standalone 5G, or a brand-new 5G infrastructure. Since "Standalone 5G" is independent of the current 4G network, using a 4G SIM card to access 5G services will no longer be an option. Compared to the NSA 5G network of the rival, the Jio Standalone 5G network will offer services that are more affordable, quicker, more powerful.
In order to convert your current 4G SIM to a 5G SIM, you will probably need to go to the closest customer care office or retail location. Additionally, there may be an SMS feature that allows users to upgrade their 4G SIMs to enable 5G by sending an SMS from their currently active 4G SIMs. The telecom provider might introduce a special website for its 4G to 5G SIM upgrade service.
Jio has not yet made any announcements regarding a 5G SIM card. We'll let you know if Jio ever makes any statements in the future. So make sure to keep an eye on this space for any developments.
What download and upload speeds will Jio 5G offer?
Jio has so far tested 5G in 8 different cities. According to a recent study from 91Mobiles, Jio in Mumbai has attained 8x quicker speed than 4G. The tests revealed upload and download speeds of up to 412Mbps and 420Mbps, respectively. We don't have any information about 5G bands that use mmWave or mid-band (sub-6GHz). Jio will undoubtedly also deliver higher frequency bands, which would provide faster speeds than sub-GHz bands.
| | | |
| --- | --- | --- |
| Network | Download Speed | Upload Speed |
| Jio 5G | 420Mbps | 412Mbps |
| Jio 4G | 47Mbps | 26Mbps |
How much will Jio 5G plans cost?
Jio 5G Plans
Price in India
Starting Plan
Rs 400-500 (Expected)
In India, Jio 4G plans start at Rs 239/month and include 100 SMS, unlimited voice calls, and 1.5GB of 4G data each day. Jio 5G plans will be substantially more expensive, as you might anticipate. This might not be the case, though, if Jio launches 5G at a price that is competitive. If so, we can anticipate that Jio 5G plans will begin at about Rs 400–500 per month. Jio might also maintain fair pricing for the 5G bands with increased frequency.
Mukesh Amban stated during India Mobile Congress 2022 that Jio would provide the highest quality services at the most competitive prices available anywhere in the globe. So you won't have to spend a lot on 5G because 5G plans will be reasonably priced.
Final Words
Overall, Jio will roll out 5G services at the appropriate moment. It must get the technology and cost aspects correct. If it happens, Jio has a lot of opportunities to contribute to the success of 5G. Things will certainly get more exciting if telecom heavyweights like Airtel and Vi (Vodafone-Idea) jump on the 5G bandwagon.
Humbly Request To All Visitors!
If you found above both downloading link expired or broken then please must inform admin by fill this Contact Us! Form