Website
Which Affiliate Program Is Better: Flipkart vs Amazon India?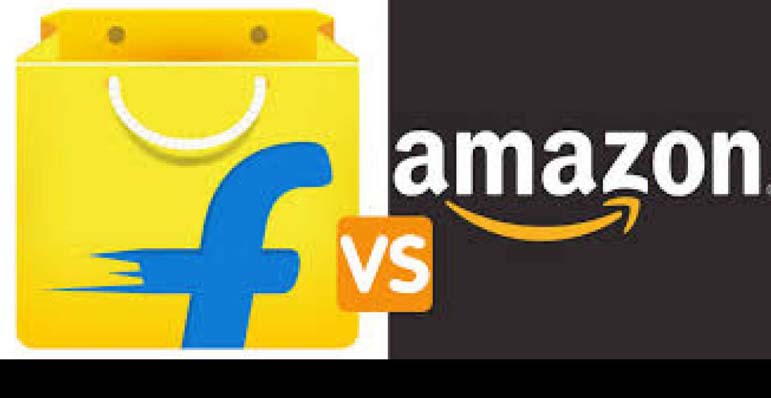 Let's take a closer look at the Flipkart and Amazon partner programs and see which one is best for your blog. We'll also look at which program will help you earn more money. Since 2014, I've been using the Flipkart and Amazon partner services, and they've undergone significant changes. Even before to 2017, there were many opportunities to make money, but this has decreased in recent years for certain niches, such as technology. Other options back then included the Snapdeal affiliate program, as well as Paytm and Infibeam affiliate programs. All of them are now closed. The two most famous affiliate programs for Indian content creators are Flipkart and Amazon. Both services are still in operation, but the commissions have been drastically reduced. Certain categories, such as furniture, books, and groceries, also carry an 8-10% commission. Over time, commission rates for big sellers such as electronics, large appliances, and smartphones have decreased.
How to Join the Programs?
To apply for the Amazon or Flipkart affiliate programmes, click on the links below. Before granting approval, the organisation will validate your application and examine your website. It can take a few days for your application to be accepted, so don't be concerned if you don't hear back right away.
Link to Join Amazon Affiliate Program
Link to Join Flipkart Affiliate Program
Due to Covid-19, both companies paused their affiliate programs in April and did not resume them until the 15th of May. This has resulted in a significant loss for website owners who were largely reliant on affiliate marketing.
In addition, for the next few months, Flipkart will not be accepting new affiliates. We're not sure how serious they are about expanding the software.
Flipkart Affiliate Marketing Commission Framework
Large Appliances – Rs 1500.
3000 rupees for air conditioners
Electronic devices account for 4% of the total.
Grocery – an 11% discount for new customers and a 3% discount for returning customers.
Books, Sports, and Home and Furniture – Currently 0%; prior to the lockdown, it was between 8% and 10%.
Cell Phones – 0% on top-selling phones (Tecno, Realme, Xiaomi), flat Rs. 1000 on iPhone and some other luxury phones, and 2% on the rest.
Amazon Affiliate Marketing Commission Framework
Books – 8%
Large Appliances – 5%
Apparels and Clothes, Shoes – 9%
Toys and Baby Products – 9%
Health and Beauty Products – 8%
Kindle, Amazon Devices, and Firestick – 10%
Mobiles – 1%, Some phones at 1% and others at 0%.
Amazon.in (Amazon India) lowered the commission on all mobiles from 2.5 percent to 1 percent in February 2021, which is a significant reduction for many YouTubers and Tech Blogs.
Flipkart vs. Amazon: Which Program Offers More Commission?
The commission structure for both companies is different, as you can see from the above details, and it changes on a monthly basis. The commission structures for various product categories vary. Flipkart has capped payouts on a number of items by charging affiliates a flat rate. Amazon, on the other hand, is unrestricted. When compared to Flipkart, Amazon has a more favourable commission system. Several of the most famous phones and goods (TVs) have no commission. Most products are free of commissions, particularly for low-margin Chinese brands such as Realme and Xiaomi.
Tracking and Reports
Flipkart and Amazon also have comprehensive reports. On a regular basis, you will be able to monitor the amount of clicks, goods purchased, and commissions. You can refine your website and content based on what's working for you, and sell those items more aggressively if they're bringing in a lot of money. The Amazon reviews are more reliable. Flipkart sometimes shows some invalid clicks and the monitoring is off. This can or may not have an effect on earnings, but results are occasionally delayed. Click monitoring and conversions are another significant problem. According to our experience, Flipkart does not reliably monitor clicks or sales. The dashboard will reveal 3 hits one day and 30 hits the next. Also, since we haven't connected to those products, some of the runs are wrong.
The Flipkart Affiliate Program has been a good experience for us.
I also enlisted the help of GeekyRanjit, a prominent Tech YouTuber with years of experience in affiliate marketing. What he had to say about the Flipkart affiliate program is as follows.
Feedback Pls on Flipkart Affiliate Program – in terms of Earnings, Support, Conversions, Tracking and Reports. (Doing an article on it) – @C4ETech @geekyranjit @Dhananjay_Tech @tech_burner @gizmoddict @technolobeYT Please feel free to tag anyone else.

— Kanuj (@kanuj5678) June 5, 2020
For us, conversions have been zero for months, and despite sending traffic, we have not received any commission from the company since 2019. They've also never responded to any questions we've sent them via email or Twitter. Personally, I believe that the Flipkart affiliate program is not worth your time or effort. The Amazon affiliate scheme, on the other hand, is not without flaws. On Amazon.in, I've noticed that high-value purchase conversions are minuscule.
It's difficult to pinpoint why, but we get a lot of orders for low-cost products that we haven't even connected to, while the real high-value products that we promote are rarely mentioned in affiliate reports. This is a little risky and difficult to prove, but if you have a lot of connections and a lot of traffic to Amazon, you'll eventually figure it out. It's possible that this isn't the case in other nations. Other affiliates' experiences may vary, but we've had a number of issues with the program since 2018.
Widgets and Banners
Flipkart and Amazon also have banners and widgets that you can put on your website by simply pasting a few lines of code. However, since the banners aren't targeted at a particular audience, they might not result in higher conversion rates. Instead, make your own banners to promote the unique goods or deals you believe would result in further conversions.
Flipkart And Amazon Pay Affiliate Marketers In A Variety Of Ways.
To obtain payments, you must include your bank account details, including account number, name, and IFSC code. If you don't have a bank account, you can use a friend's or family member's account details. You can also alter your account information at any time. You must also apply your Pancard information so that taxes can be done at the source. You can, however, claim a refund for the tax deducted by Flipkart or Amazon when you file your income tax return. These businesses make payments per month in the first ten days.
How Much Money Would You Make By Affiliate Marketing On Flipkart And Amazon?
Based on your previous earnings and traffic, Flipkart has set a limit on the maximum commission you can receive in a month. They can change the cap at any time, and they can even set it to zero for a few months. The commission you can receive from Amazon associates, on the other hand, is unlimited. The commission can range from a few thousand dollars to a couple of lakhs every month. However, it is not easy, and you will need a high-volume website to drive traffic to high-payout goods in order to succeed.
Are The Flipkart And Amazon Affiliate Programs Profitable For Affiliates?
It's one of the most frequently asked questions on Quora and other online communities. These networks are generating revenue for blogs and websites. However, based on my own experience, commissions have dropped dramatically in recent years. Owing to decreased commissions and bonus limits, my earnings have fallen by 70% in the last few years. The main explanation for this is the rise of Chinese companies that do not pay affiliate marketers and take a large portion of revenue.
Online shoppers are price-conscious bargain hunters who flock to brands like Xiaomi and Realme, which don't charge poor bloggers any commission. Since there are larger media houses and businesses that drive a lot of traffic to these blogs, the opportunity for earning from affiliate marketing in the technology niche is currently limited, and small bloggers are left out. If you are interested in books, software services, or even large appliances, you have the potential to make a lot of money.
Is It Possible To Use The Amazon And Flipkart Affiliate Services On The Same Website?
Yes, you certainly can. There is no requirement that you limit yourself to only one. In reality, you can use AdSense in conjunction with affiliate marketing to supplement your blog's earnings.
Is It Simple To Make Money Via Flipkart Or Amazon Affiliate Programs?
No, is the short answer. Creating high-quality content that ranks in Google can take a lot of time and effort. Only when visitors use your links to purchase goods will you receive a fee. Furthermore, conversion rates are poor, with only a small percentage of visitors (less than 2% ) purchasing a product after clicking your affiliate connection. I don't want to discourage you, but it's no longer an easy career. Here are some tips I've gained over the years that you should try to increase your Amazon or Flipkart affiliate earnings.
How Do You Boost Your Amazon And Flipkart Affiliate Earnings?
There are ten tips that will greatly increase your affiliate earnings:
Promote high-profit goods by writing in-depth articles about them.
Avoid brands with small commissions; they aren't worth it.
Look for ways to drive more traffic to articles with high-margin goods that are less difficult to rate.
Link to items that readers can purchase after reading the content to make your affiliate links more relevant.
Promote goods with a high volume of sales and higher commissions.
Rather than concentrating on low commission goods, try to market products that can generate a significant amount of revenue from a single transaction.
Use your website's sidebar to promote your best-selling items.
Reduce the number of Adsense ads in each article and replace them with 1-2 custom affiliate banners.
Look for high-margin items that aren't widely covered by the mainstream media.
Don't think about getting a lot of or little web traffic if you write about items that will pay you commission.
Conclusions: The Affiliate Programs at Flipkart and Amazon
There are fantastic ways to supplement your income from your blog, website, or even your YouTube channel. These are a must-try for bloggers because there are no other choices because most other partner services have already closed. Given that Indian content creators have little options for making money, large corporations may be taking advantage of the situation. Several orders that would have helped developers receive a lot more commission have been withdrawn at a later date.
There is no clarity about cancelled orders or why those orders were excluded from the creators' final commissions. Furthermore, fees are now charged on the commodity value – GST, resulting in a roughly 20% reduction in earnings. Previously, Amazon and Flipkart will charge a fee based on the product's selling price. There are affiliate aggregators such as Admitad and Cuelinks, but their conversion rates are much lower. Showing a single deal to all tourists would not result in a high conversion rate. Working on the relevancy of the branded goods is the only way to increase conversions.As a result, this article can serve as a wake-up call for some readers who have been led to believe that affiliate marketing is a simple way to make money. No, it isn't.
Humbly Request To All Visitors!
If you found above both downloading link expired or broken then please must inform admin by fill this Contact Us! Form